Field Notes: International Criminal Court v. Bemba
A Knowledgable Commander and Failure to Act
ABOUT
The Basics
Tribunal: International Criminal Court (ICC)
What Crimes: Murder as a war crime and crimes against humanity, rape as a war crime and crimes against humanity, pillaging as a war crime
Who: Jean-Pierre Bemba Gombo
How: Command responsibility
Backstory
In October of 2002, Jean-Pierre Bemba Gombo's personal army, the Movement for the Liberation of Congo (MLC), allegedly crossed the border from their stronghold in the northern Democratic Republic of Congo (DRC) into neighboring Central African Republic (CAR) to help then President Ange-Felix Patasse put down a coup attempt.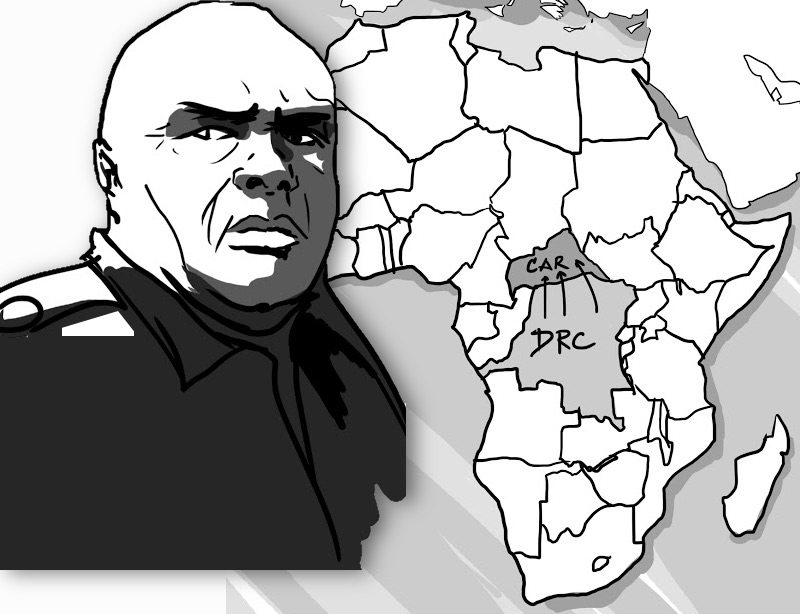 Part I: A Knowledgable Commander
Bemba stands accused of leading a devastating and widespread campaign of rape, murder and pillaging in CAR, with rape being the primary method used to terrorize civilians. According to prosecutors at the ICC, Bemba's army raped women and girls in front of their families, as well as raped men and important elders to publicly humiliate them.
Bemba claimed that the troops were not under his effective command (Element 1) and dismissed the reports of criminal activity by his troops as "untrue". We will not address the evidence prosecutors submitted to prove he had effective command here. Instead, we go directly to the evidence prosecutors submitted to prove that he knew his troops were committing crimes (Element 2). Let's look at some of the "notice evidence" prosecutors assembled in their attempt to prove that Bemba was well aware that MLC troops were, in fact, committing crimes.
Examples of Notice Evidence Used to Prove "Knew or Should Have Known"
Examples
Why This Put Bemba On Notice That Troops Under His Control Were Committing Crimes
MEMORANDUMS & PUBLIC ADDRESS
In November 2002, Bemba gave a public address to troops in Bangui, the capital city of CAR. Before he gave his address, local leaders in Bangui presented a memo to Bemba. This memo informed him that his MLC soldiers were killing civilians and carrying out mass rape. In his address, Bemba acknowledged the existence of reports of widespread criminal activity committed by MLC troops.
WITNESSES & MILITARY SITUATION REPORTS
Witnesses testified that all military and rebel forces had a system of reporting from the battlefield. Specifically, MLC's operational rules required that the lowest command submit a situation report to the highest command every 24 hours. The report covered aspects such as operations, intelligence, logistics and casualties.
TESTIMONY SUPPORTING THE ABOVE
Witnesses also testified that Bemba:

Was in constant and direct contact with the military commanders via other various communications devices such as, radio, walkie-talkies, satellite phones and fax machines; and
Visited CAR during the military campaign and spoke with commanders and troops.

INTERNATIONAL MEDIA
Reports by Radio France International, BBC, Voice of America, etc., put Bemba on notice of his troops' crimes by reporting on these abuses.
NGO REPORTS
Reports from NGOs, including Amnesty International and International Federation for Human Rights, that described both previous criminal allegations against Bemba's troops and that MLC leadership had acknowledged those allegations, as well as crimes committed during the time period at issue.
Video is absent from this list of evidence. One key reason is because in 2002–2003, villagers under attack in CAR had few — if any — cameras to record events. If the situation in CAR happened today, here are some ideas on how notice evidence could be documented with video to show that Bemba knew or should have known his troops were committing crimes.
Video clips of:
Speeches where Bemba acknowledges crimes;
The commission of crimes or the aftermath of the crimes broadcast on television or over the Internet on platforms Bemba would be likely to see;
The commission of crimes or the aftermath accompanying written NGO reports that are widely distributed;
Bemba using communications technologies;
Bemba in the field with his troops in CAR; and
Speeches by UN officials presenting evidence of the crimes on the world stage.
Additionally, citizens could film uniforms, insignias, patches, or equipment used by the soldiers committing the crimes to show the troops were in fact Bemba's soldiers instead of members of a different army. Public sharing of this type of footage would also put Bemba on notice, preventing him from plausible deniability.
Take Home Points
Bemba — A Knowledgable Commander
First, to be held accountable, a remote commander must have "known or should have known" his or her people were committing crimes. To prove this, investigators and lawyers gather "notice evidence" which is simply information that would have communicated that the crimes were taking place.
Second, video can demonstrate that a high-level commander had knowledge of crimes, but it requires planning and strategy to capture video that meets the legal requirements needed for evidence.
Third, if safe, it could be important to publish "notice evidence" — such as troops committing crimes or speeches of officials detailing crimes — widely because it may someday prevent a perpetrator from being able to say, "I did not know" during his or her trial.
Part II: Bemba's Failure to Act
Assuming that the prosecution proved the first two elements, that Bemba had "effective command and control" and that he "knew or should have known," next they would need to prove "failure to act." Bemba claimed that he didn't fail to act and that the MLC soldiers who committed crimes were put on trial and sentence for the crimes they committed. The prosecution disagreed.
To prove "failure to act" the prosecution primarily relied on witness testimony. For instance, witnesses testified that:
While the MLC has a Code of Conduct for troops to follow, the MLC code was written in French. The majority of the lower ranking soldiers, however, did not speak French and instead spoke Lingala so they could not read the code.
These soldiers were also often illiterate, meaning that regardless of the language, the lower soldiers could not read the code and would not know exactly what the code included without a verbal explanation.
Bemba presented no clear evidence that he and his commanders made an effort to inform all of his troops in the MLC of the Code of Conduct.
Any interest in enforcing the Code of Conduct lessened as the MLC moved further into CAR and further away from their DRC home making statements such as "The main purpose [of operations] was conquest rather than looking into matters of discipline."
Field Commanders did nothing as they watched their troops commit crimes.
The trials Bemba claims to have held did not charge the commanders, who were present when the MLC soldiers committed crimes against civilians. Instead, the alleged trials tried low-ranking individuals guaranteeing impunity for commanders.
Even though Bemba was made aware of the killing of civilians and mass rapes, the trials that Bemba claims to have completed against the MLC soldiers did not include charges of murder or rape. They were instead tried for lesser charges such as extortion.
Low-ranking soldiers who were given multi-year prison sentences for crimes were pardoned after serving just a few months once neutral observers and the international community left the region.
The attorneys and judges arguing and overseeing the trials were appointed by Bemba and the outcomes for the MLC soldiers were also determined by Bemba.
Video is also absent from this list of evidence for the reasons shared above — cameras weren't
in everyone's pocket in 2002 and 2003. However, video could have played an important role in corroborating and strengthening the evidence because Bemba's defense disputed all of the testimony listed above. If the situation in CAR happened today, here are some ideas on how you could use video to show that Bemba failed to stop his troops from committing crimes.
Video clips of:
The MLC's Military Code in French;
MLC soldiers on the frontlines speaking Lingala instead of French;
Bemba giving a speech to troops before their deployment;
Commanders in the field watching — not acting — as crimes are being committed by soldiers;
Conversations between Bemba and his commanders discussing what to do about crimes being committed by troops;
Stockpiles of pillaged goods on MLC bases or in commanders' homes;
Insignias on uniforms showing the rank of the soldiers that were tried for crimes;
The trials of the MLC soldiers, including the reading of the charges against the soldiers and the announcement of the sentence; and
The soldiers that were found guilty taking part in military activities with a time and date stamp showing they did not fulfill their full sentence.
Additionally, citizens could film:
Commanders rallying their troops and encouraging them to commit crimes;
Commanders participating in the commission of a crime with their troops;
Commanders using property pillaged from the frontlines such as stolen vehicles; and
Any ceremonies or parades honoring troops that were known for committing crimes.
Undeniably, the "failure to act" is difficult — yet not impossible — to film. If you were in a village where low-ranking officers were giving orders in Lingala instead of French and then killing civilians while Commanders did nothing, this video could add strength to the witness testimony outlined above. That said, your safety, and the safety of those around you comes first.
Take Home Points
Bemba — Failure to Act
First, to be held accountable for committing a crime by command or superior responsibility, a remote military commander or civilian leader must have "failed to take action" to stop the people he or she controls from committing crimes.
Second, video can show lack of action, but you have to think about to show this. It's not instinctual. It requires thinking outside of the box. Video may or may not be your best investigative tool, so really think about how it could help and if it's worth the risk.
Key Points
Focus on Command and Superior Responsibility
Value
Human rights investigators have stated that almost anything a commander says during a conflict can be useful in later investigations and prosecution. So, while the recording and/ or collection of speeches, interviews, statements and public declarations may seem like a futile undertaking, it is most certainly worthwhile, even if it is not immediately clear how the footage will be helpful.
Source
It is also important to recognize that as an activist you will not likely have access to film commanders. However, you could have access to footage found on:
the phones of defectors or prisoners
computers or hard drives confiscated from the battle field
television broadcasts
Internet platforms such as YouTube
In turn, knowing how to identify and preserve linkage and notice evidence is as important as knowing how to capture it when you are holding a camera in the field.
Playing by the Rules Counts
There are many military and civilian commanders that believe in playing by the rulebook when it comes to war. There are certainly commanders that do not support killing civilians. They do not believe in torture. They do not believe in pillaging civilian homes. However, even if they strive to play by the rules, sometimes they may have rogue troops in their ranks.
Commanders and leaders who play by the rules and properly train, supervise and discipline the people they have authority over aren't the ones the international criminal justice system seeks to prosecute. Crimes may have happened on their watch, but if they did everything in their power to try and stop it, the commander should not be charged for crimes. Time is better spent prosecuting commanders and leaders who either supported people as they committed crimes, or turned a blind eye and did nothing to stop the crimes from happening in the first place.
About This Field Note
This Field Note is from the Proving Responsibility: Filming Linkage & Notice Evidence section of the Video as Evidence Field Guide.